a
THANK YOU 2016
Dearest Dharma Brothers, Sisters and Friends,
The Dharma family at Drikung Dharma Surya Center (DDSC) wishes you our most sincere "Tashi Delek" and Happy New Year 2017 with abundant blessings and love. First and foremost, we wish to thank you very much for your faithful and unconditional support to contribute towards the fulfillment of the enriching mission of DDSC. We pray that DDSC temple continues to abide for as long as sentient beings exist and that each one of you continues to be the causes to transform our troubled world into a kinder, happier, friendlier, harmonious and peaceful one!
During this time of giving, please take a minute to consider the mission, roles and work of DDSC. We sincerely ask for your donation and support in many ways you can. No donation is too small nor too large. All donations are 100% tax deductible under 501(c)(3) IRS Code. See http://drikungdharmasurya.org/physical-center-fundraising-campaign/
With the motivation to promote Buddhist and universal spiritual values and to benefit all beings without exception, we have successfully organized and offered a total of thirty-five (35) dharma programs and retreats in the past 12 months of 2016, as summarized in the table below. With the blessings and under guidance of Garchen Rinpoche, we also launched the Garchen Children's Practice program every Sunday for kids at ages from 5-12 to learn the fundamental tenets and practices of BuddhaDharma. Buddhism 101 and Meditation weekly classes have been provided for beginners and students from local colleges and high schools. We have completed the construction of the pagoda housing a special large prayer wheel, which Garchen Rinpoche has advised to locate at the outside corner of the temple's Shrine Hall. Billions of mantras of Buddhas, Deities and Protectors will be soon installed and consecrated. We have been able to do and accomplish all that and many more in 2016 because we have the support from many incredible, wonderful individuals like you with donated funds, time, energy, space and growing volunteer workforce. Yes, each one of you, near and far, has been a valuable member of the Drikung Dharma Surya family, and an integral part of its growth and success. THANK YOU, THANK YOU, THANK YOU!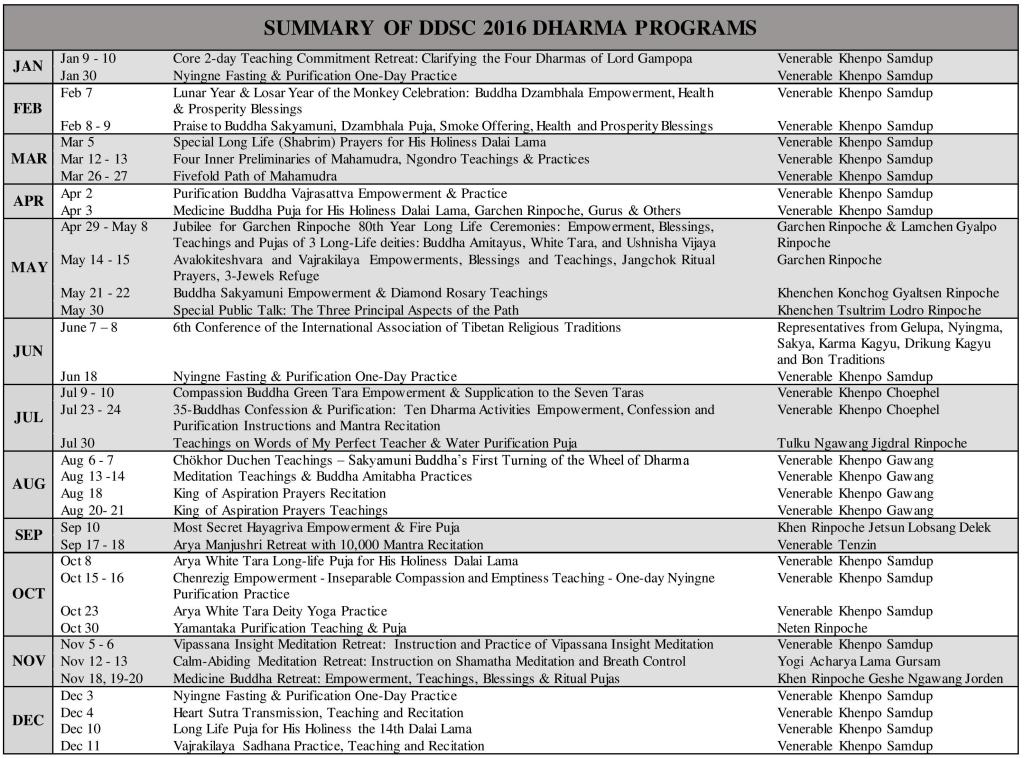 Our aspirations and actions do not stop here, as we continue to work tirelessly to carry on the envisioned BuddhaDharma mission and to fulfill the aspirations and the visions that Garchen Rinpoche and His Holiness Drikung Kyabgön Chetsang have guided us. Just to name a few of our forthcoming plans, we have taken the lead in organizing and hosting the 2017 International Vesak Festival at DDSC temple on June 3, 2017, as sponsored by the Washington D.C. International Buddhist Committee (IBC). Buddhists monks, lay persons and staff from temples representing Theravada, Mahayana and Vajrayana traditions and such countries as Sri Lanka, Thailand, Myanmar, Cambodia, Lao, Vietnam, Nepal, South Korea, Japan, China, Mongolia and Tibetan are expected to join and celebrate this Special Event. DDSC upcoming January 2017 programs are already scheduled, to include the Special 5-day closed commitment Great Drikung Phowa Chenmo Retreat with Venerable Khenpo Samdup and Lama Thubten Nima. See DDSC Homepage http://drikungdharmasurya.org/. Whenever possible, we plan to install a Special HUNG Logo (designed by Garchen Rinpoche) on top of the temple roof, to build a paved walkway surrounding the temple for circumambulation, and to improve the deteriorated asphalt parking lot.
2016 has been an auspicious year, but I am thrilled to invite you to gear up and get ready for an exciting 2017.
Happiest of Holidays.
On the behalf of the Dharma Family at Drikung Dharma Surya,
Quang Bui
President