a
THE BOARD OF DIRECTORS of the Drikung Dharma Surya Center are un-paid Volunteers. 100% of your contributions for the Center Project will be used for the Center Project.
Drikung Dharma Surya Center is a IRS 501(c)(3) non-profit religious organization.
All Donations are 100% Tax Deductible.
a
Please click on the Entrust Credit Card or Paypal Donate tab for contribution
| | | |
| --- | --- | --- |
| | Via EFT Corp | Via PayPal |
| General DDSC Donation | | |
| DDSC Physical Center | | |
ALL SUPPORTERS WILL be recognized for cumulative monetary gifts or equivalent contribution of time, labor, skills, etc., towards the construction of the Center. Recognition plaques, engraved with the names of supporters, will be permanently placed in appropriate locations of the Center.
a
We sincerely appeal to all individuals and organizations, dharma brothers and sisters, to support and help to contribute towards the fulfillment of this enriching Mission for the benefits of all sentient beings. Donations in any amount are warmly welcome and greatly appreciated.
WE WILL SINCERELY STRIVE to fulfill the Vision for a Physical Center and the Construction Plan as described. It is possible there may be adjustments to the plan depending on the support received. We are blessed to have this opportunity to serve and have faith that we can meet with great success as the need is great and we have many good examples to follow.
For special gifts to the Center Project, please Contact Us.
To Donate by Check – Please make checks payable to the "Drikung Dharma Surya Center" and indicate "DDSC Physical Center" in the memo area. Mail the check to:
Drikung Dharma Surya Center
5300 Ox Road, Fairfax, Virginia 22030, USA
A
SPECIAL RECOGNITION PLAQUE TO PAY OFF TEMPLE MORTGAGE DEBT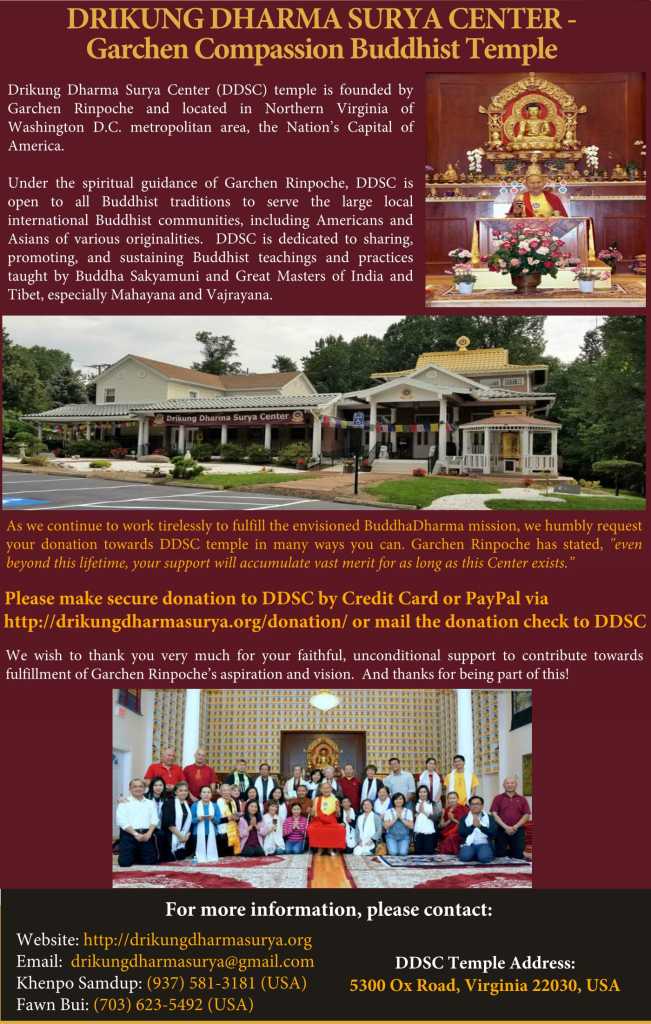 a
BUDDHA STATUES SPONSORING: Please Print and Fill in the BUDDHA STATUES SPONSORING FORM. Mail the Sponsoring Form and check to:
Drikung Dharma Surya Center, 5300 Ox Road, Fairfax, VA 22030