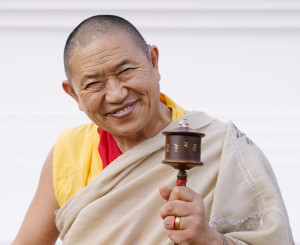 Question: What does one do if they might be ready to get rid of (or move on from) an attachment, but it might be harmful to those who are attached to you; like older children? Chronic illness etc. may cause you to stay longer.
Garchen Rinpoche: The point is not to be attached. If you are already not attached to them, there is no need to abandon them. If they need your help, then you must not abandon them, but should take care of them. This becomes your practice of compassion, and this is more beneficial than to abandon someone that you are already not attached to.
If you take care of them with love, you will naturally practice the six paramitas.
You will serve them with your body, which is generosity.
You will not hurt them, which is moral conduct.
You will not be angry with them, which is patience.
You will always love them, which is meditation.
From your love and compassion, wisdom increases.
And you will persevere in all that, which is diligence.
Once again remember that Longchen Rabjam said, "When mental arisings settle in their natural state, there is no need to abandon samsara."
When your passions are subdued, there is no need to abandon samsara. Then it is time to take care of beings. If you abandon them at this point, it would be a transgression of your bodhisattva's vow [bodhisattva vow].