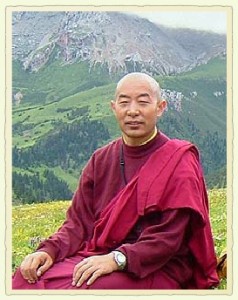 L

AMA BUNIMA was born in 1963 in Gargon village in Tibet to a nomadic family, and he kept watch over his family's flock of yaks and goats. He had sincere devotion to the Dharma from the age of 8, and at 16 he met His Eminence Garchen Rinpoche, who came to Gargon for a brief visit. When Rinpoche returned for a second visit two years later, Lama Bunima received the refuge vows from His Eminence and great devotion arose. With this devotion and great faith, he completed the ngondro practice while still living as a nomad. He did prostrations and mandala offerings in his mother's house and completed the Vajrasattva and Guru Yoga practices while tending the animals. Shortly thereafter he received the Ganges Mahamudra transmission and instructions.
He lived as a nomad until age 21, and from that time on he stayed with Rinpoche. Starting in 1982, Lama Bunima helped Rinpoche rebuild his monasteries, which had been destroyed during the turmoil in Tibet. He received his monastic ordination in 1982 from Khenpo Munsel and subsequently received Trekcho and Thogal transmission and many other teachings from Garchen Rinpoche. In 1993, together with Rinpoche, he left Tibet for the first time. They traveled for one year in India, Nepal, and Hong Kong, and thereafter, until 1997, they spent most of the time in Tibet.
Lama Bunima attended Rinpoche throughout their travels, and at other times he stayed at Gargon monastery and did various retreats. While in retreat, his primary practice was Nyungne. In 1997 he traveled with Rinpoche to America, and he subsequently became an American citizen.