Drikung Dharma Surya Center Bookstore
DDSC temple houses a separate boutique gift shop for the purpose of providing study and ritual materials for Buddhist practitioners as well as for any gift occasion. The shop offers many unique Buddhist ritual items from Nepal and India, to include an eclectic selection of Buddhist books, scriptures, teaching texts, commentaries, audio CD/video, paintings, Buddha statues, mandala, stupa, incense, sur offering substance/powder, prayer flags, malas, lamps, ritual instruments including dorje/bell, Chöd damaru, incense burner, and offering bowl, thangkas, katas, T-shirts, clothing, accessories, blankets, and many other unique treasures.
All items in our gift shop have been personally blessed by H.E. Garchen Rinpoche!   Moreover, located in the lower level of the temple, DDSC temple also offers a Shravasti library of BuddhaDharma resources of different languages (such as Tibetan, Vietnamese, Chinese, Korean, Mongolian, Japanese, English) for borrow and check-out, to include Buddhist books, scriptures, teachings, commentaries, as well as Tibet's ancient traditions of art, cultural artifacts, gallery and archives.
---
For better service, the Bookstore is open by appointment.  
---
The "Benefit All" Microfilm PrayerWheel (Limited Edition)
US $350 each plus US $25 shipping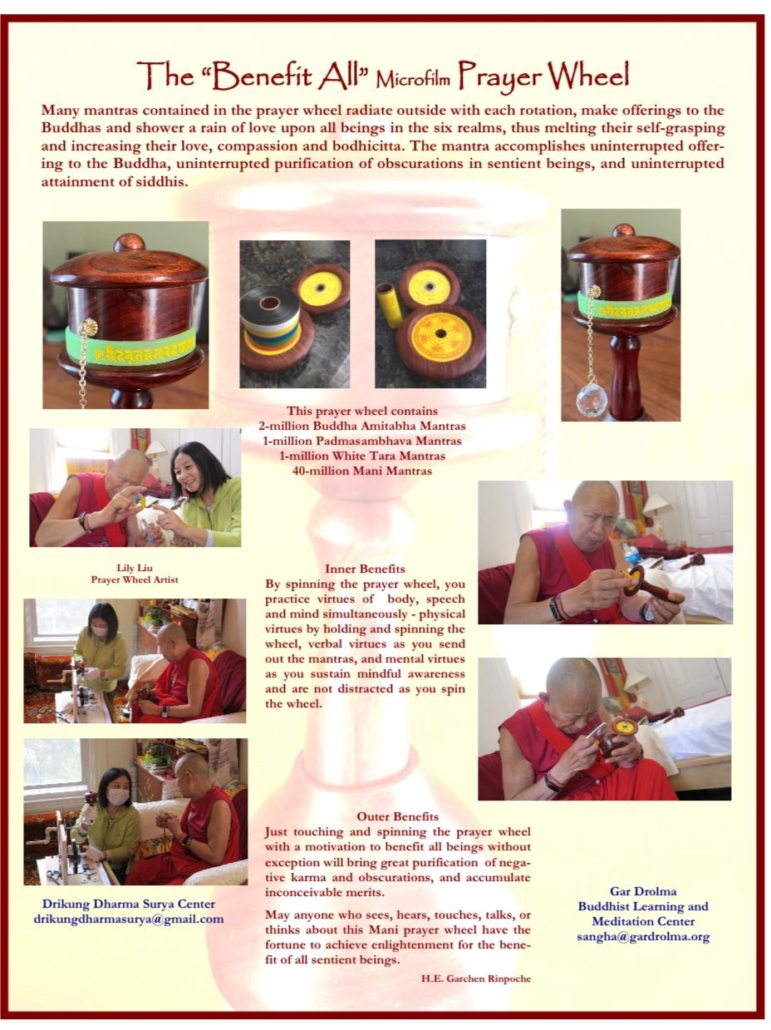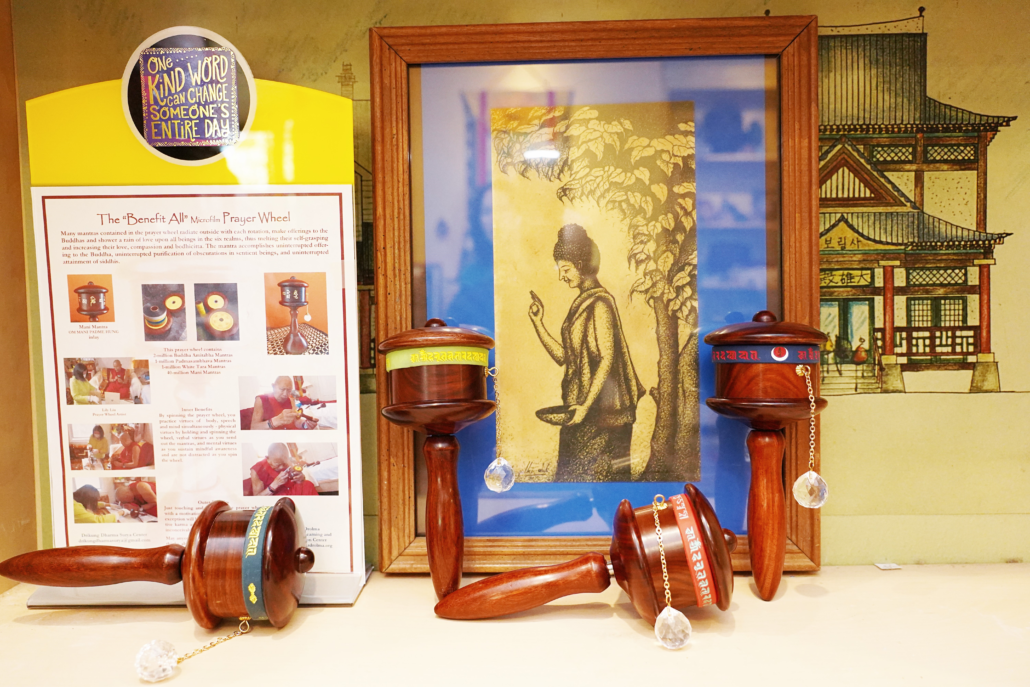 Many mantras contained in the prayer wheel radiate outside with each rotation, make offerings to the Buddhas and shower a rain of love upon all beings in the six realms, thus melting their self-grasping and increasing their love, compassion and bodhicitta.  The mantra accomplishes uninterrupted offering to the Buddha, uninterrupted purification of obscurations in sentient beings, and uninterrupted attainment of siddhis.
This prayer wheel contains 2-million Buddha Amitabha Mantras, 1-million Padmasambhava Mantras, 1-million White Tara Mantras, and 40-million Mani Mantras.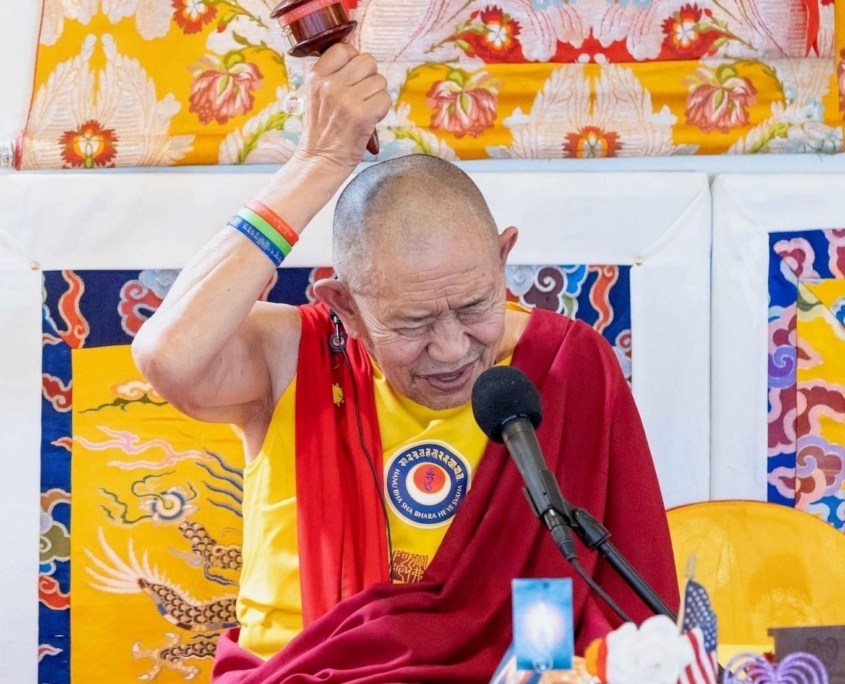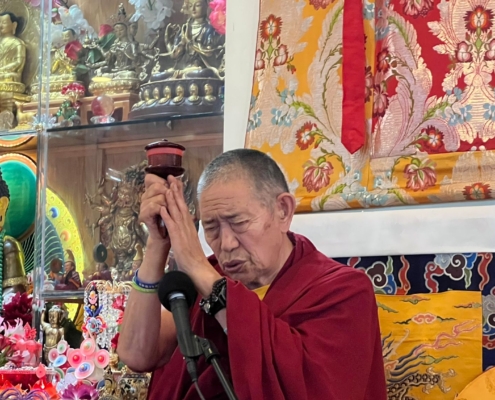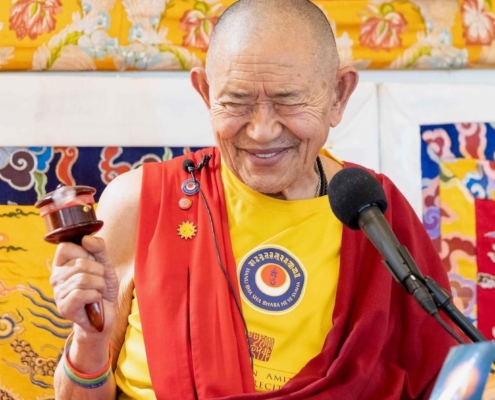 These prayerwheels are blessed by H.E. Garchen Rinpoche.  Rinpoche has spinned this prayerwheel during the Namgyalma Long Life practices and Mahamudra teachings at Garchen Buddhist Institute (GBI) in April 2023!   
By spinning the prayer wheel, you practice virtues of body, speech and mind simultaneously – physical virtues by holding and spinning the wheel, verbal virtues as you send out the mantras, and mental virtues as you sustain mindful awareness and are not distracted as you spin the wheel.
Just touching and spinning the prayer wheel with a motivation to benefit all beings without exception will bring great purification of negative karma and obscurations, and accumulate inconceivable merits.  May anyone who sees, hears, touches, talks, or thinks about this Mani prayer wheel have the fortune to achieve enlightenment for the benefit of all sentient beings.
If interested, please visit our bookstore and/or contact us at drikungdharmasurya@gmail.com
---