Quotes from the Precious One
This book is a collection of insightful quotes, inspirational sayings and heartfelt advices from His Eminence Garchen Rinpoche – a Tibetan lama of the Drikung Kagyu Lineage, a highly accomplished and realized yogi, a skillful teacher, and the beloved Guru of many of us – whom I dearly call "Apa-la".
The current 8th Garchen Rinpoche was the incarnation of a 12th century highly realized yogi named Gar Chodingpa, one of the heart disciples of the famed Jigten Sumgon, Kyobpa Rinpoche – founder of the Drikung Kagyu lineage that traces back to the great translator-yogi, Marpa Lotsawa, and the greatest poet-yogi of Tibet, Milarepa.
Garchen Rinpoche, well-known for his vast realization, kindness and compassion, is highly revered not only by masters and disciples of his own lineage but also masters and disciples of other traditions.
The book contains 108 exceptional insights and wisdom on the essence teachings of the Buddha, addressing the Thirty-Seven Practices of Bodhisattvas, the infallible law of karma, and the ultimate practices of the relative Bodhicitta and the absolute Bodhicitta. It is hoped that these quotes of love and wisdom can spread far and wide with the sole wish to bring peace and happiness into the world and to benefit all sentient beings without exception.
Each quote is illustrated with a special photo of Garchen Rinpoche – just that we always remember vividly and diligently follow the wonderful qualities, enlightened activities, profound teachings and direct instructions of our Guru.
This book is not possible without the unconditional support from many Dharma teachers, brothers, sisters, translators, friends and Centers around the world that have graciously shared these special words and photos of Garchen Rinpoche through various media channels and social networks. Special Thanks go to Ina Dhargye for translating and transcribing Rinpoche's quotes and making them available to everyone.
Our deepest gratitude goes to Garchen Rinpoche for all of the precious teachings especially the examples and experience of his life that he has been providing and sharing with all of us.
May I never be separated from the precious Bodhicitta. May I always follow in the footsteps of the Precious One to benefit all beings and to help eliminate the sufferings for as long as space endures and for as long as living beings remain.
With Prayers and Love,
Quang
Drikung Dharma Surya Center
Centreville, Virginia, U.S.A.
November 2013
7 Supplications to Tara Recitation Accumulation for Garchen Rinpoche Long Life
Garchen Rinpoche's Biography (Book One
&

Book Two – English)
WITH LOVE AND GRATITUDE ALWAYS . . .
To our readers . . .
DECEMBER 2022 – JANUARY 2023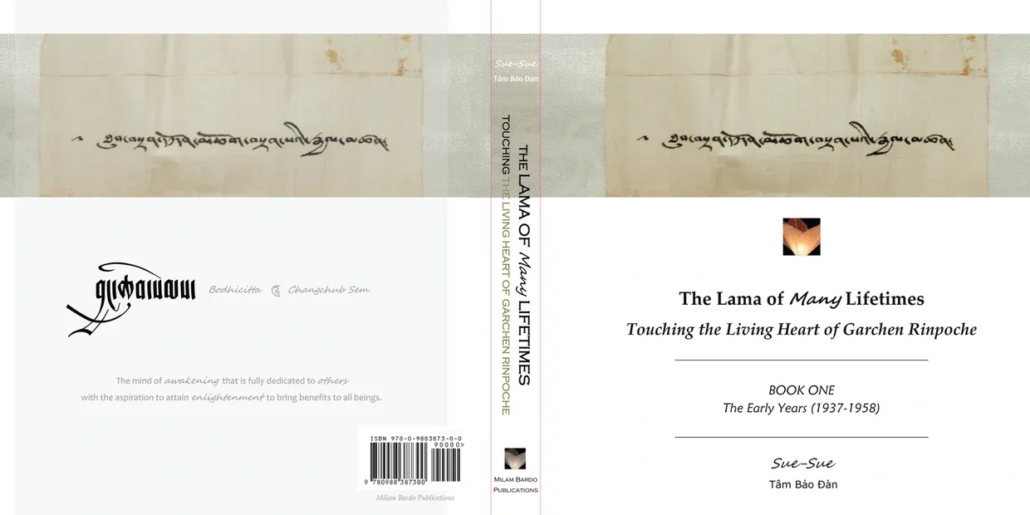 BOOK 1 IS NOW AVAILABLE FOR FREE DOWNLOAD – READ STORIES ONLINE – CLICK HERE (1/2023)
TUYỂN TẬP 1- ĐỌC TRUYỆN TRÊN MẠNG – BẤM VÀO ĐÂY (12/2022)
To each and every reader of Garchen Rinpoche's biography, may we traverse the same pathway in our reading, from the darkness of a pupa to the light of a butterfly, as he did in his real life. May whatever doubt and disturbance that arise for us as we encounter Garchen Rinpoche's openly communicated life stories transform into the great power of truth that brings us closer to our own genuine realization.
May we develop and be in absolute awe of Bodhicitta at the end of this journey!
READ ONLINE: Garchen Rinpoche's Biography (Book One-English)
https://garchenbiography.us/read-online-english-1
ĐỌC ONLINE: Tiểu Sử Garchen Rinpoche (Tuyển Tập Một-Việt Ngữ)
https://garchenbiography.us/%C4%91%E1%BB%8Dc-online-vi%E1%BB%87t-ng%E1%BB%AF
LAMA'S HEART, YOUR HEART, MY HEART, ALL BEINGS' HEARTS… ONE AND THE SAME.
MAY PALDEN GARCHENPA FOLLOW IN THE FOOTSTEPS OF JETSUN MILAREPA AND BE DEATHLESS!
Book sales to benefit the SOUTHWEST BUDDHAFIELD ENDOWMENT FUND, the LAPCHI RESTORATION PROJECT, various charitable and Dharma activities as well as writing and translation projects.
BOOK 2: PERFECTION OF LIBERATION (1958-1980)
BOOK TWO IS AVAILABLE IN PRINT – JUNE 2019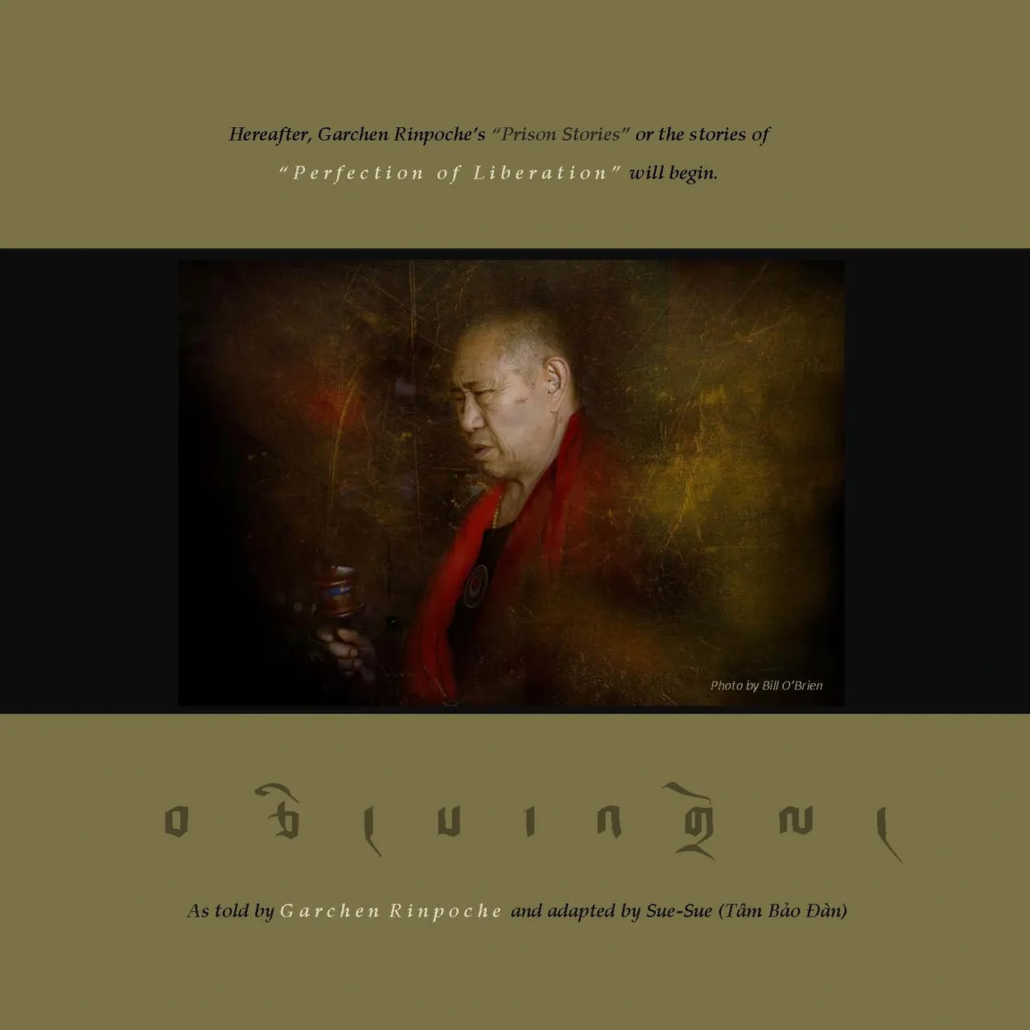 Excerpt from Book Two – Chapter 8:
"The first encounter I had with my Lama in prison was as simple as that, but due to this great blessing, I was saved from my downfall. In the beginning, prison to me was the worst of hell. In the middle, after I met Khenpo Munsel Rinpoche, the hard labor which I had thought as painful and fruitless ever so slowly became my daily Dharma practice. At the end, due to the unrepayable kindness and profundity of my master, prison became like a land of jewels, and the hatred and anger toward my enemies ended up being completely transformed. I did not return from the prison empty-handed. Suffering, the source of pain, became the catalyst. I was able to develop genuine altruistic aspiration under the guidance of Khenpo Munsel, and through that, to fulfill the purpose of my human birth in this lifetime. But I also would not hesitate to say that the real Lama, the real teacher who gave me the most invaluable instructions was actually suffering. Suffering was my greatest teacher."
From the very depths of our hearts, we pray that our collective efforts and aspirations, as writer and readers of the 8th Garchen Rinpoche's life stories, become a source of never-ending dedication toward the full awakening of everyone—our enemies, our loved ones, ourselves, and all beings—now and for all lives to come. As we read, may true comprehension take hold of us, and through the living transmission and teaching Garchen Rinpoche has entrusted us with, through his life stories, may trust in karma and Bodhicitta arise, deepen & spread!
Crafted with love . . .
Book Two, designed and crafted with great care, aesthetic flair, and with love and gratitude, consists of 480 pages, including forewords from His Holiness the 14th Dalai Lama, Garchen Rinpoche and Mindrolling Jetsun Khandro Rinpoche, and over 58 pages of full-color photos, some of which have been collected by the author on her lone trip to Lhasa in 2014 and have never been released in the past, and many other beautiful elements of surprise!