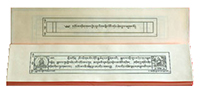 Please feel free to download and disseminate the resources made available here, except for those who are designated to be used only for practitioners having received the necessary empowerments and transmissions.

The texts listed on this page is a direct link to the Drikung Kagyu Official Web Site.
We ask that you:
Do not use these materials for personal financial gain and
Acknowledge the Drikung Kagyu Official Web Site and Drikung Dharma Surya Web Site when you pass these resources along (in whatever form they may be).
Dagpo Chenga Rinpoche
The Life and Liberation of Phagmodrupa, the Protector of Migrating Beings
Download PDF file
Garchen Rinpoche
Drikung Kagyu Mahamudra Teachings
Download PDF file
Khenchen Konchog Gyaltsen
Samsara and Nirvana, Two Sides of the Same Hand
Download PDF file

Khenchen Konchog Gyaltsen
In Praise of the Great Holy Praise Tsaritra, The Embodiment of Bodhicitta
Download PDF file

Khenchen Konchog Gyaltsen
Permissions and Prohibitions: Their Mode of Abiding
Khenchen Konchog Gyaltsen
Some general remarks on the Dharma
Download PDF file

The following resources are intended solely for practitioners having received the necessary empowerments and transmissions. If this applies to you, please feel free to download the resources for your own practice. We ask that you 1) do not use these materials for personal financial gain and  2) do not pass these resources along (in whatever form they may be).
Long Chakrasamvara Sādhana
The detailed sādhana of Chakrasamvara according to the system of the Indian Mahāsiddha Ghantapa, which was brought into its present form by the 17th Drikungpa, Rinchen Phüntshog in the first half of the 16th century.
Download PDF File