a
Please log onto https://drikungdharmasurya.org/donation/ to donate securely by Credit Card or PayPal

or
A
DDSC is a 501(c)(3) non-profit organization
All donations are 100% Tax-Deductible
a
The proceeds from these Treasure Vases currently placed in the Temple Shrine Hall Altar will go to the Center's Building Fund.  Any additional contribution beyond the suggested donation is sincerely appreciated.  [OUT OF STOCK]
a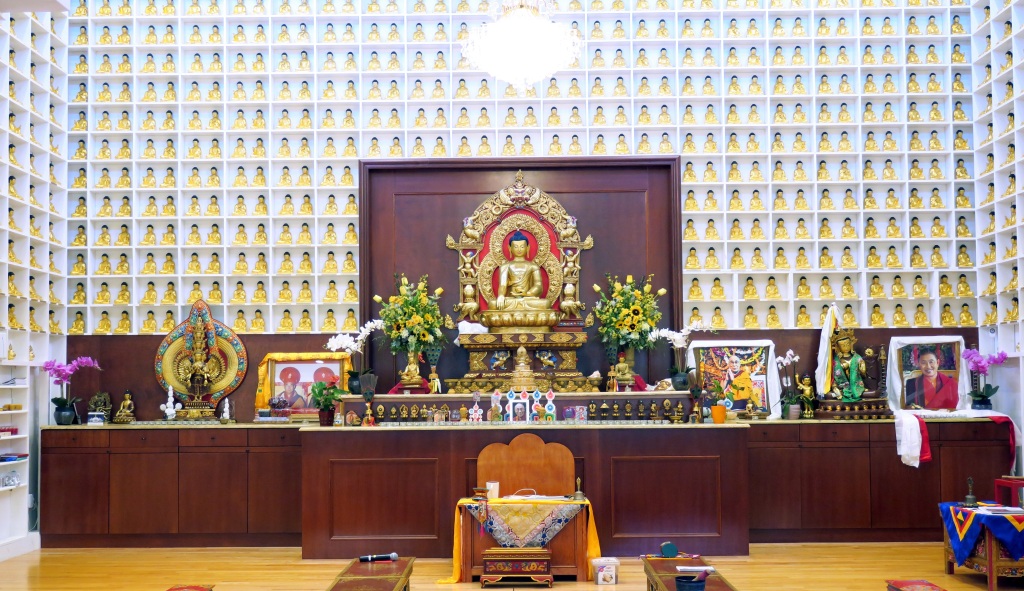 a
TREASURE VASE with EIGHT AUSPICIOUS SYMBOLS  [OUT OF STOCK]
A
Treasure Vase is an ancient tra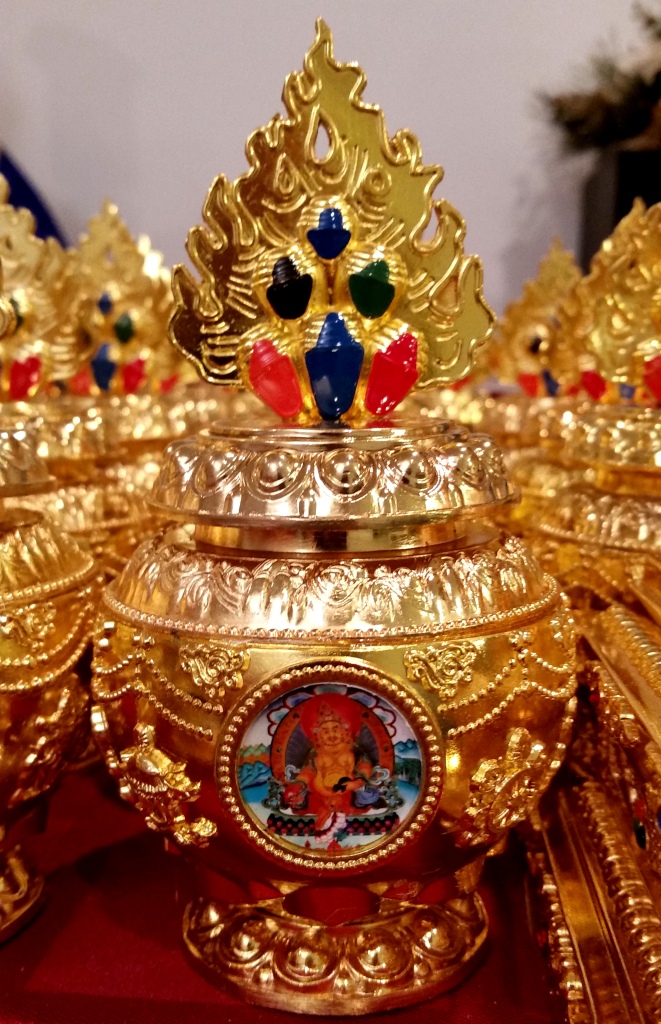 dition in Tibetan Buddhism used to restore positive energy through balance, healing and abundance to both the spiritual and physical world. This very auspicious treasure vase is embellished with Eight Auspicious Symbols and is crowned with the flaming jewels representing wisdom burning away of ignorance and attachment.
This Treasure Vase is filled with sacred relics and pills, precious ritual and healing substances, and rare elements – all offered and blessed by the current 8th Garchen Rinpoche and His Holiness the 37th Drikung Kyabgön Chetsang of the Drikung Kagyu lineage – as well as a collection of all Buddhas/deities mantras.


SUGGESTED DONATION:   $300
Each Treasure Vase contains a small amount of perhaps the most unique, invaluable treasury of relics and holy substances ever put together in one place.
Sacred heart relics of Lord Jigten Sumgon, the founder of the Drikung Kagyu lineage – thought of as the second Buddha
Sacred relics founded in Tara statue built by Tibetan King Songtsän Gampo in the 6th century – regarded as an embodiment of the Compassion Buddha, Avalokitesvara
Special blessed dharma pills (of over 800 years-old) from Drikung Kagyu lineage
Sacred blessing pills of liberation – the renowned Dzogchen master Dza Patrul Rinpoche of Nyingmapa lineage made these pills from sacred Terma relics brought to Tibet by Padmasambhava (Guru Rinpoche), Marpa the Translator, and other great masters.
Special Bumpa dharma pills and sacred substances
Collection of various precious elements from sacred holy places all over the world
Rare medicine and blessed healing substances
Precious stones, jewels, earth and other substances
Mantras of Buddha/yidam deity with a collection of all Buddhas mantras. Those Buddhas/deities include Buddha Sakyamuni, Buddha Amitabha, Buddha Amitayus, Padmasambhava (Guru Rinpoche), Medicine Buddha, Avalokitesvara, Manjushri, Vajrasattva, Vajrapani, Green Tara, White Tara, Dzambhala, Mahakala, and Mantra of Interdependent of Origination.
The Treasure Vases have been carefully prepared, sealed and consecrated through prayers and empowerment rituals to invoke the blessings of all the manifestations of the Buddhas and yidam deities and the vitality of the elements.  Consecrated Treasure Vases bring balance, healing and abundance to the outer world (earth, water, fire, air, space) and the inner world (flesh, blood, heat, breath and mind).
As widely seen in successful business premises, consecrated vases can be placed in homes or business to help balance the energy, bring good fortune, bless the residents through spiritual and physical well-being (health and long life) by removing negative energy and obstacles for prosperity and spiritual attainment (improving spiritual practice & virtuous activities), and contribute to the positive energy of the world.
a