Khen Rinpoche Jetsun Lobsang Delek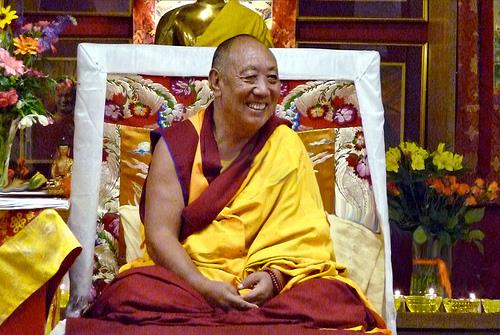 Khen Rinpoche Jetsun Lobsang Delek was born in Tibet in 1939. At age 7, he was ordained as a Buddhist monk at his native Karze Monastery and later joined Sera Jey Monastery in Lhasa, Tibet. In 1959, he took refuge in India after following His Holiness the Dalai Lama. He continued his study and received Geshe Lharampa Degree (Ph. D. in Buddhist Philosophy) in 1987 at Sera Jey Monastery. In 2005, Khen Rinpoche was appointed as Abbot of Gyudmey Tantric Monastery by His Holiness Dalai Lama and completed his tenure in 2008. In 2011, he was appointed as the Abbot of Sed Gyud Monastery.
After serving a year and half as Abbot of Sed Gyud Monastery, His Holiness appointed Khen Rinpoche as the 74th Abbot of Sera Jey Monastery in 2012. Khen Rinpoche has been giving extensive teachings and initiations since 1983 in India, USA, Canada, Europe, Singapore, Taiwan, Malaysia, Japan, and Indonesia. As the Abbot and Chairman of Sera Jey Monastery, Khen Rinpoche oversees over 4,000 monastic communities in India.