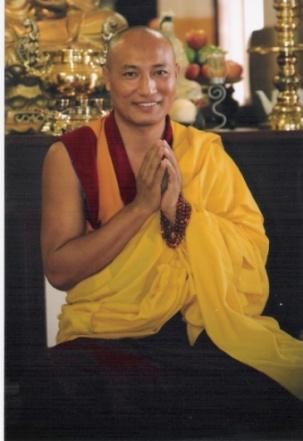 The 1st Neten Rinpoche was the Tulku (reincarnated Lama) of Tsangchung Sangye Pasang and was the one who built the Jungpa Monastery in Lithang-Kham, Tibet. The present Tulku Neten Rinpoche was born just over one year after the passing away of the 8th Tulku Neten Rinpoche Ngawang Lobsang Kunga. In 1986, His Holiness the Dalai Lama graciously recognized him as the 9th reincarnated Tulku Neten Rinpoche, Lama-Abbot of the Jungpa Monastery. By this time, he has already been a great scholar at the SeraMey Monastic University in south India and has won the respect of other monks both as a Dharma Teacher and a Debater.
There were sixteen (16) renowned Arhats in India. The Neten Rinpoche's lineage can be traced back to the 11th Arhat named Lam Tran Ten Pharpha LamChung (Sanskrit name is ChudaPantaka), who was reincarnated many times in both India and Tibet as a Mahasiddha Bodhisattva and Tsangchung Sangye Pasang, a disciple of the Great Lama Je Tsongkhapa.
Tulku Neten Rinpoche secured the highest Geshe Lharampa Degree (Ph.D in Buddhist Sutra Studies) and, soon afterwards, he joined the Gyumed Tantric Monastery for higher Tantric studies. After four years of strenuous studies and practice, he appeared for the final examination in the presence of His Holiness the Dalai Lama and Abbots of Gyumed and other monasteries. He then received the advanced degree of Ngagrampa (highest degree in Studies of Tantra) and accepted the position of Discipline Master at the Gyumed Tantric Monastery. Later he went back and taught Dharma to sanghas at the SeraMey Monastic University.
Tulku Neten Rinpoche is the current Founder & Abbot of the Jam Tse Cho Ling Dharma Centre In Toronto In Calgary, Canada.